Cabin Crew Jobs on The Rise

As a cabin crew member, you'll present outstanding customer service to passengers while assuring their comfort and safety during the flight. Serving refreshments and snacks and selling gifts and duty-free items are all part of the job. The crew are qualified to deal with protection and emergencies and can administer first aid to passengers. You also have to ensure that all emergency supplies are in working order before take-off and sufficient supplies on board. Help passengers board the plane and give an illustration of safety procedures and equipment.
What are the Cabin Crew's Duties?
Recognize the responsibilities of the appointed role while in flight and give it your best.
Ensure the satisfaction of passengers by responding to questions and offering them assistance.
Verify cabin before take-off to assure compliance with security regulations.
Greet travellers on board and assist them to their seats when needed
Serve food and refreshments and sell products.
Give the "safety" performance in a well-prepared style.
Watch the cabin frequently for the whole duration of the flight.
Adhere to authorized regulations and procedures.
Remain patient and offer help to passengers in the case of an emergency.
Give special attention to passengers with particular needs (children, disabled, elders etc.)
Provide accurate reports concerning any critical issues or happenings.
Opportunities for Cabin crew in 2022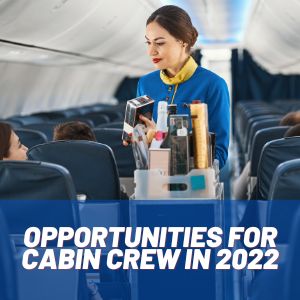 Private sector
There are jobs available in private abroad-based airlines due to the gradual globalization and open sky policies, which call for increasing liberalization. With the increasing number of fleets of airlines, the demand for flight attendants is likely to increase. Private air flites, which even have work in other countries like IndiGo, Singapore Airlines, Kingfisher, etc., make a lot of recruits.
Government sector
In the contractual nature of an air hostess, their work in the sky is limited to 8-10 years in the government sector. Later, they might be in charge of tasks like hiring and training new employees or managing teams. Due to their extensive experience over the years, they can additionally diversify their portfolio. After working as flight attendants, they can pursue careers in hotel hospitality, media, and travel tourism.
Essential
Being part of the cabin crew is an opportunity that is meant for a special few. Not only should one possess a friendly and kind person, but they ought to be quiet and composed in all sorts of scenarios. They should have to make a sound understanding and presence of mind in every condition. Self-confidence and a positive mindset are the key and are some of the most prized qualities. Maintaining knowledge of many communications is a plus. Cooperation and teamwork are skills one must have in implement as the nature of the job asks for them. A professional approach and hard work are a must for becoming a cabin crew.
Cabin crew job openings increase in 2022
The up-and-coming Akasa airline ordered 72 Boeing 737 aircraft at the Dubai air show. This is an Indian airline's first Max order. Massive demand for 72 aircraft will significantly increase employment postings in the aviation sector. The number of job openings for cabin crew members will be the greatest of all job categories in the aviation sector. The employment options for airline cabin crew are numerous. They can seek this job opportunity & also join public sector airlines, like Air India & Pawan Hans. However, most cabin crew members favour private airlines operating on domestic and international routes.
Private airlines like Jet Airways, Spice Jet, IndiGo, Jetlite Airlines, etc., are preferred cabin crews. With experience, they can convert supervisors and select and supervise the work of junior cabin crew members. Most airlines support crew members to opt for other jobs, depending on their agreement for available positions. Some airlines designate routine indicated administrative and other ground responsibilities to senior flight staff members.
How to become a Cabin crew in 2022
Jobs in the airline industry are consistently among the most prestigious. Many positions for airline occupations are open to those with a 10th-grade level. Young and experienced applicants apply each year for jobs in the aviation business.
Qualifications
A degree or postgraduate qualification is not needed for a cabin crew member's admission into work. Instead, most airlines assume you to have an outstanding secondary education, with some requiring good knowledge in English and maths.
Considering a degree, HND or foundation degree in one of the subsequent subjects may benefit show the airline that you have a benefit in the area:
Hospitality & travel management
Languages
Leisure and tourism management
Being qualified to speak other languages is especially useful, which could put you in interest against other candidates.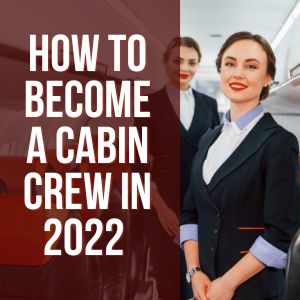 The majority of airlines do have a listing of requirements. However, which applicants' requirements meet. This involves some or all of the following:
Least age of 18, in some events, 21.
Good health and fitness, with the capacity to swim 25 metres unaided.
The least height requirement may vary between airlines and is usually proportionate to weight.
Sound hearing and eyesight, although glasses and contact lenses are permitted.
Original & valid passport allowing unlimited travel worldwide.
A completed Declaration and Barring Service (DBS) test.
A medical test, although some airlines may not need this.
About WIIA
WIIA is the Best Aviation Training Institute in Indus that offers various courses to aspirants.
Western India Institute of Aeronautics Pvt. Ltd. (WIIA) offers,
Are you looking for the best Airhostess/Flight steward training courses?
Then WIIA is the perfect place. WIIA is a Cabin Crew Training Institute providing Cabin Crew Training Courses. With the best learning, the Cabin Crew Training Institute also offers the best placement opportunities for the students.