Which Aviation Course is the Best

Aviation Industry in India has been booming ever since the pandemic ended. It has only seen growth after being halted for two and a half years. Many countries closed up their borders in order to stop the spreading of the virus, cancelling all flights and other transport services. Travelling saw many restrictions. But now, the world is slowly crawling back to normalcy, and all the restrictions have been lifted now. People who missed travelling are getting back in the field. Borders have been opened up, and airports are now crowded again. The stats from airports over the nation show that there has been a very positive incline in the number of people travelling from place to place. There was a spike of 33% in domestic fliers at 8.4 Crores in 2021 compared to the previous year. This growth in the number of air passengers in the nation calls for more airplanes as well as airports to manage these aircraft and the passengers. Along with this, the growth in the aviation industry demands more workforce and fresh aviation recruits to fill up many roles such as Cabin Crew and Aircraft Maintenance Engineers.
Thus, this is the best time for one to get into the aviation industry. In order for that to happen, one needs to get their Aviation Training Courses done from the Best Aviation Institutes in India. Western India Institute of Aeronautics offers thorough and practical aviation training courses in 3 different fields.
Aircraft Maintenance Engineering
Cabin Crew
Aviation, Hospitality & Travel Management
Keep reading ahead to know more about these different courses offered at WIIA, and find out which one suits you and your interests the best for you to make a career in the aviation industry.
Aircraft Maintenance Engineering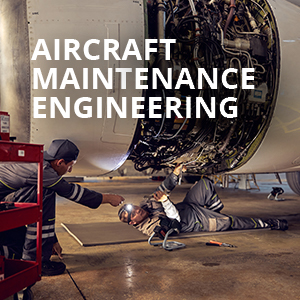 Aircraft Maintenance Engineering is a 3-year undergraduate licence course which is approved by the DGCA. AMEs, are personnel who deal with the maintenance, repair, overhaul and modification processes of an aircraft which is to be done regularly by these technicians and engineers for the smooth functioning of an aircraft. They hold adequate knowledge and experience of everything aircraft for the safety of the flight, the pilots, the crew and most importantly, the passengers. These AMEs cannot be just theoretically well versed and knowledgeable in the course. They need to have thorough practical training on live aircraft and their parts. Aircraft Maintenance Engineers are trained to inspect an aircraft, diagnose its problems, and solve them. AME professionals make sure that an aircraft is flightworthy.
The AME Course is divided into 3 different categories –
Aircraft Maintenance Engineering B1.1 (Aeroplane Turbine)
The category deals with Jet Engine & Aeroplane Structure learning and maintenance. To get the License in Category B1.1, the student needs to clear a total of 11 nos. of modules conducted by DGCA, Ministry of Civil Aviation, Govt. of India.
Aircraft Maintenance Engineering in B2 (Avionics)
It is a balanced practical and theory-based approach for the Aircraft Maintenance Engineering license. They are mainly accountable for keeping the plane in an airworthy situation and administering the airworthiness certificate before the flight.
B.Sc (Honours) in Aircraft Maintenance
This course trains the students in understanding the concept in terms of technical aspects of aircraft, particularly in Maintenance, Repair and Overhauling, etc. Students understand the basic knowledge of aircraft and its engine, landing gear, instrumental system, fuselage, electrical system, radio & navigation system, etc.
To be eligible for Aircraft Maintenance Engineering, students must have passed their 10+2 examination with Chemistry, Physics & Mathematics from a recognised Board or University or completed a three-year diploma in Mechanical/Electrical/Electronics/Aeronautical.
The student should be at least 16 years of age, medically fit and shouldn't have colour blindness or any other physical disabilities.
Cabin Crew
One of the most popular aviation jobs ever, the cabin crew job shoulders many responsibilities but is also highly adventurous, thrilling and challenging. Along with getting the chance to jet off to exotic destinations all the time, a cabin crew member is also a highly paid position.
A cabin crew member is required to deliver excellent customer service to the passengers while providing convenience & safety during the flight. They check whether all the emergency tools are in working order or not before the flight takes off. Serving refreshments, food and selling gifts and duty-free things are part of the job. They bring the passengers the valuable information passed on by co-pilots and pilots outside. The crew are also trained to deal with security and emergencies and assist first aid to passengers. These are few of the responsibilities invested in a cabin crew member.
Through the 6-month Cabin Crew Training course, a student can fill many positions such as a Purser, Senior Cabin Crew, VVIP Cabin Crew and other ground-based managerial roles such as marketing, sales and HR for an airline.
Click here for more information on the Cabin Crew course, its syllabus, and career opportunities.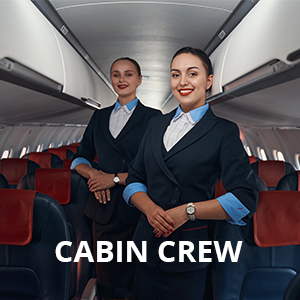 Aviation, Hospitality & Travel Management
This is a vast job role with various positions and responsibilities under it, all of which are made to ease up the procedures of working an aircraft. The job always has representatives from this field in all prospects of the aviation industry, from booking a ticket to accommodating a passenger's appropriate stays.
The 6-month aviation training course equips the Aviation, Hospitality & Travel Management student with the in-depth knowledge and understanding of Airport Management, Airport Security, Airport Planning, Passenger Forecasting, and Safety and Security. Aviation, Hospitality and Travel Management is a crucial part of aircraft and airline workings. One can seek a career after the course as a Travel Desk Executive, Travel Executive, Itinerary Planner, Airline Ticketing Manager, Passenger Handling, Sales Executive and In-Flight Service and Security.
A student must have finished 10+2 examinations in any discipline from a recognised board or university or diploma or degree in any stream. They must be of at least 16 years of age and should be medically fit without colour blindness or any other physical disabilities.
Click here for more information on the Aviation, Hospitality & Travel Management course.
So, which is the best Aviation Course?
There is an aviation course for every individual, regardless of background or skills. But the same fact may confuse one as to which specialisation to choose and chase to best benefit their future career in Aviation. Every single one of the Aviation Courses gives in-depth knowledge about the Aviation Industry for the student to shine in the field. It all depends on your interests and skill set and what you plan to make out of your career in the future. Keeping one's future, i.e., where you want to be in your life 5-10 years from now, is important. Any Aviation course is guaranteed to land you in a good spot in life because of its constant growth and development and our society's status for aviation professionals.
Why WIIA for Aviation Training Courses?
Western India Institute of Aeronautics (WIIA), Ahmedabad, is shaping the future of aviation with its extensively practical aviation training courses. WIIA is also the first DGCA-approved AME college in Gujarat to provide B.Sc (Honours) in Aircraft Maintenance degree on a single campus. Students at WIIA are trained with the knowledge and skills required to succeed in the aviation sector with a group of highly qualified and highly experienced experts from the industry. The faculty of our Institute do their best to provide quality education and learning to the students. WIIA is the only Aviation Institute in India to have its own Boeing 737-200 Aircraft on campus to provide students with the best theoretical and practical knowledge.
WIIA, along with a live Boeing 737-200, has a Turbine Engine Workshop, a Zenith CH-2000 aircraft, a Learjet-24 Aircraft and a Boeing 747-200 aircraft landing gear.
Placements at WIIA
WIIA provides various placement opportunities to its prospects, including in the best Aviation sectors relating to Top Airlines, MRO Industries, Aircraft Manufacturing Companies, Flying Clubs and many more. A few top companies that tie up with Western India Institute of Aeronautics for placements include SpiceJet, Air India, Vistara, TruJet, HAL, Flydocs, Qatar Airways, StarAir and many more!
You can find more information on the placements provided by WIIA here.