Hospitality Management Jobs with IHCL in India

Hospitality management is a professional way that falls under the hotels, resorts, and lodging industry. Professionals in this field form and run many phases of the guest experience. They also often lead front desk staff, housekeeping, and sales teams. Excellent hospitality managers consider how much their customers enjoy their experience and are looking for new ways to enhance every aspect of a holiday whenever possible.
The main properties where hospitality managers often work include hotels, motels, resorts, and condos. But you'll also find hospitality managers working in casinos, private transportation, retail, food and beverage, and more.
The two primary goals of hospitality management professionals are making customers happy and staying within a given budget. These goals often conflict when guests want a full refund for their multi-night stay. It's up to the hospitality manager to determine what the property can afford, how they can make it up to the customer, and how the people who directly field these complaints should resolve them.
About IHCL
IHCL A Tata Enterprise Established by Jamshedji Tata in 1868. The Tata group is a global enterprise covering over 100 individually operating companies. The group works on more than six continents to raise the quality of life of the communities it helps globally. The Tata brand maintains a long-lasting promise behind its businesses, many of which are leaders in their fields, through the formulation of long-term stakeholder value based on "Leadership with Trust." IHCL is acknowledged to be one of the first of those timeless and tireless initiatives.
IHCL is reimagining itself by leveraging its substantial brand equity to multiply its portfolio while aligning to high-growth segments. This includes manoeuvring excellence and reinvigorating the portfolio across all brands.
Emerging Trends in Hotel Industry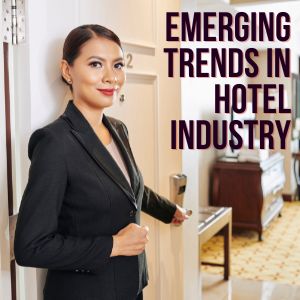 Following, you find five hospitality trends stimulated by the pandemic. However, there is a big chance these trends will stick around.
Safety & Hygiene
Several hospitality trends can be broadly defined as being linked to safety and hygiene. These have grown especially relevant with the emergence of COVID, as the world changes to the virus and efforts to contain the spread. These concepts need to be a preference for hotels, restaurants, bars and cafes.
Measures here may involve the provision of hand gel, improved cleaning of areas where customers will be, executing policies related to wearing masks or other emergency equipment, and securing respected social distancing rules. Any special rules must be made clear before time and enforced to make people feel safe.
Moreover, your hospitality marketing efforts also require emphasizing your safety and hygiene measures. Defining these steps could be the contrast between creating bookings and having customers look elsewhere.
Contactless Payments
Many of the most excellent hospitality trends are concerned with decreasing friction, and contactless payments have been the most outstanding examples. Customers save time sorting through cash or inserting their PINs when contactless payments are received. The development of something like Apple Pay and Google Pay also removes the need to carry a wallet.
Aside from eliminating friction and enhancing the customer experience, the coronavirus pandemic has also raised the demand for contactless payments. Many customers and staff members seem uncomfortable handling cash, and giving the option for contactless payments is now a necessity rather than an excess.
Voice Search & Voice Control
The use of voice search is frequently growing common among customers seeking and booking hotels and restaurants. Hence, you need to return to this style change and make an effort to attract these customers. This means, amongst other things, structuring your website content clearly, so it highlights appropriately in voice search results.
Beyond this, voice control can also manage devices within hotel rooms, improving the guest experience. For example, intelligent lecturers can provide guests with answers to questions and reply to voice requests to turn on lights within the room.
Enhance F&B Delivery at Home
Many restaurants and businesses offering food have changed to the COVID situation by growing food and beverage deliveries, allowing consumers to enjoy something similar to the restaurant experience at home. Often, that means taking telephone and online orders, delivering quickly and offering contactless deliveries.
A crucial part of hospitality management in the COVID era is finding innovative new ways to impress customers. Regarding food and beverage delivery, bars search for ways to bring refreshments to customers' houses, while restaurants frequently offer extras, including candles, free food, or QR codes with Spotify playlists.
Of course, takeaways create more waste, so use proper packaging that can be ethically led off.
Robots in Hotel & Restaurant Settings
Automation ranks leading up on the list of hospitality trends to be aware of, and robotics is an exciting part of this being used further. Hotels, eateries, and related companies can use robots to greet consumers and provide consumer information, while they can also play an essential position in security services.
Robots have offered room service and performed cleaning and other housekeeping chores within the hotel setting. In the meantime, restaurants can use robots to carry out food service features. This can be particularly useful when trading with restaurant customers trying to overcome close contact with people as much as possible.
Jobs opportunities with IHCL
It is one of the challenging, practical and demanding job careers.
Career possibilities are increasing fast in the field of Hospitality Management. It is not because of the increasing importance of the Hospitality industry.
For fresh graduates, the job opportunity in Hospitality Management is phenomenal. They can start their career as Assistant Hospitality administrators, Managers, or consultants. After gaining experience in this field, they can be promoted to the position of CEO.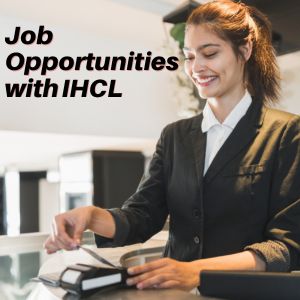 Scope in a Hospitality management job in IHCL
There are many career possibilities that one can choose after the 12th. Often the choice is based on the importance of the student and future scope. Hotel management is a highly job-oriented field; it covers many services, including food service, accommodation, and catering.
The primary job areas in the hospitality sector combine hotels, resorts, restaurants, etc. A hotel management specialist can be employed in any of the areas as mentioned above. The hotel management field is always a hot career option among students. With globalization, more and more hotel industries are expanding their business to the global markets. This has created an enormous demand for hotel management professionals.
One can enter this course because of its enormous scope in other countries also. Students wish to do this course to start their career in abroad countries. With the growing globalization, the hotel management chain is also expanding widely.
About WIIA Hospitality Management Course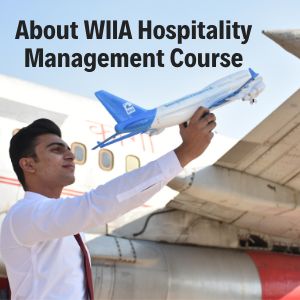 The hospitality industry is always one of the most job-oriented industries. There is a great career field, especially if you are interested in cooking and serving people. If this profession interests you, you can enrol in a variety of courses following the 12th grade. There is a massive demand for hotel management professionals in both India and abroad. Many hotel and restaurant chains hire the student directly after the completion of the course. The top hotel and hospitality industry recruiters include Oberoi hotel, Taj hotel, Hilton group, and many more.
The hotels and hospitality industry has a huge demand in all parts of the world. A professional can work in a hotel, a cruise ship, vacation resorts, industrial catering, and other similar segments.
WIIA believes that a student who is prepared for the workplace creates an excellent professional. We can confidently claim that thanks to our industry-ready infrastructure and "Practical Training" facility, we have unlocked the secret to the success of our former students in the aviation and MRO industries.