Foreign Direct Investment in Indian Aviation

FDI in Indian Aviation
In addition to being an extensive non-debt financial resource for India's economic development, Foreign Direct Investment (FDI) is a key factor in economic growth. Foreign businesses invest in India to take advantage of the nation's unique investment advantages, such as tax reductions and relatively lower wages. Along with other advantages, this helps India advance its technological know-how and create jobs. Due to the government's benevolent policy environment, thriving business climate, increasing global competitiveness, and economic influence, these investments have been flowing into India.
India received unprecedented levels of FDI in 2020–21. The total amount of FDI inflows increased by 10% over the previous financial year to US$ 81,973 million. According to the World Investment Report (WIR) 2022, India rose one spot from ninth place in 2019 to eighth place among the top FDI recipients globally in 2020. In FY22, information and technology, communications, and the automotive industries saw the most FDI. Multinational corporations (MNCs) have explored strategic partnerships with leading local business groups with the aid of substantial deals in the technology and health sectors, driving an increase in cross-border M&A of 83% to US$ 27 billion.
Market size:
79 million individuals travelled to, from, or within India in 2010. By the year 2017, that had doubled to 158 million, and by 2037, this figure is projected to reach 520 million. The Indian aviation industry is expected to grow rapidly due to an increase in air passenger traffic. Indian airlines have made significant orders for aircraft to meet the existing and anticipated increase in demand for commercial air travel. By 2038, it is anticipated that the country's fleet of aircraft will have grown fourfold, to about 2500 aircraft.
The nation currently has 131 functioning airports, comprising 10 custom, 92 domestic, and 29 international airports. It has become vital to expand airport infrastructure in order to accommodate India's expanding demand for air travel. Under the UDAN Scheme, the government plans to build 100 airports by 2024 and anticipates investing $1.83 billion in the construction of airport infrastructure by 2026.
Investment and Development:
In contrast to other parts of the world, the Indian civil aviation sector is seeing unheard-of growth, with passenger traffic growing annually at a healthy rate of about 20%, making India one of the fastest-growing markets in the world. The allied infrastructure, including as airports, ground transportation, maintenance, repair, and overhaul (MRO), has been greatly impacted by this increase.
Additionally, the government has permitted both Greenfield and Brownfield airport development projects to be privatised. This led to the construction of new airports in Hyderabad and Bengaluru as well as the renovation of those in New Delhi and Mumbai.
Future Scope for Jobs in Aviation: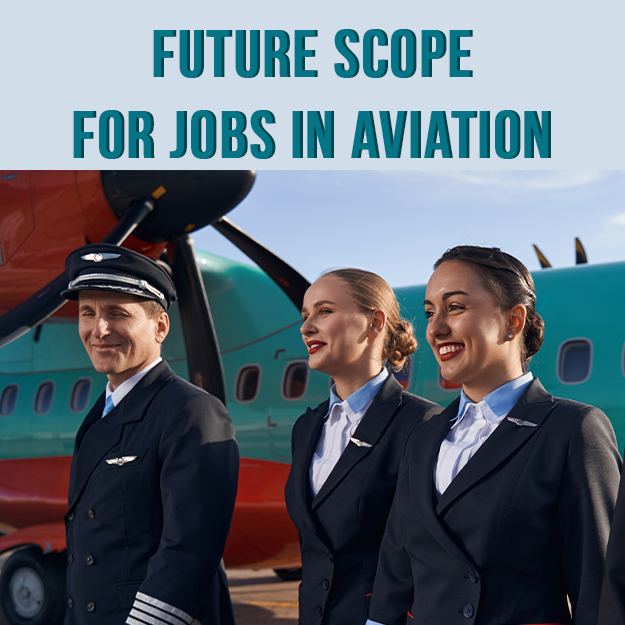 Future India would benefit from a profession in aviation because it offers both high career prospects and significant opportunities for growth. This is a suitable career for the applicant if they have a keen interest in aviation and love flying. According to the workplace, each and every branch of the aviation industry has quite varied requirements. The aviation industry is the most alluring and lucrative in the world. India has surpassed the United States and China to take third place globally in the aviation industry. The hardest profession in the world is working in the aviation industry, so anyone applying for this position needs to be extremely passionate and committed to their work.
The third-largest domestic market for civil aviation in the world is India's civil aviation industry. Numerous elements, including FDI advancements in domestic airliners, new airports, IT, and low-cost airlines, are contributing to the explosive growth of the aviation business (LCCs). According to figures released by the Department of Industrial Policy and Propaganda (DIPP), the Government of India, investments in the Indian aviation sector are expected to total Rs 1 lakh crore ($15.52 billion) over the next five years. By 2026, a total of US $1.83 billion is anticipated to be spent on expanding airport infrastructure and aviation services.
Military and commercial aviation in India has experienced a significant transformation in the previous three years. It is the right time for applicants who want to excel in the aviation profession as career chances within the business are increasing significantly. The aviation sector has grown tremendously in recent years. Freshmen in aviation management can expect to get an average salary of between Rs 16 000 and Rs 35 000 per month. A candidate with the necessary professional experience and a degree will make the greatest income of 3 to 4 lakh per month due to the profession's rapid expansion and growing demand. Employers should anticipate a large increase in their compensation given the sector's expanding presence.
Choose WIIA for your journey in this field:
WIIA is committed to giving students the best training possible in the aviation industry for their overall growth. Our team of professors and trainers is quite skilled. For all tiers of the aviation industry, the professional training and placement portion offer soft skill training, workforce solutions, help, and internships.
With the convergence of sophisticated training, interactive education, and real-time marketability, we are renowned for our high professionalism and for providing the aviation sector with a quality workforce. We blend original thought and wisdom with the development of learning paradigms. We draw imaginative individuals and foster an environment that fosters inventive and entrepreneurial thought, leading to game-changing concepts that create employment possibilities.
The top Institute of Aircraft Maintenance Engineering offers certification programmes in cabin crew and aviation hospitality & travel management, so you can always land a fantastic career without putting in a lot of work. The aviation sector offers enormous opportunities and is free of mental stress because it soars higher every day.