Cabin crew members are responsible for the safety and comfort of the passengers in a flight.
Air hostess / Flight stewards will meet the passengers, greet them, give safety information, serve them drinks and foods, and solve their queries while travelling with the aircraft.
Do you want to start your career as a cabin crew member?
Are you looking for the best Airhostess/Flight steward training courses?
Then WIIA is the perfect place.
Western India Institute of Aeronautics Pvt. Ltd.
Our training course includes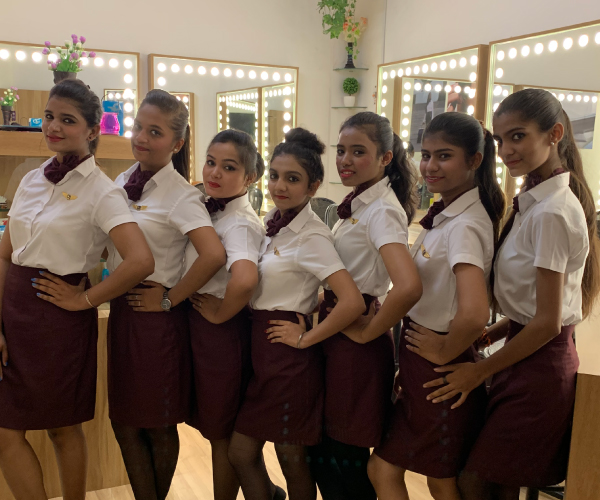 Airline employment resume/Cover letter writing/ Interview Technique
Learn how to prepare airline employment resume?
Learn how to write the cover letter?
Learn how to appear for Interview?
Roles and Responsibility
The cabin crew makes the flying experience pleasant and safe for passengers.
In the duties of cabin crew, you have to provide great service to passengers while ensuring their comfort and safety throughout the whole flight. Serving refreshments, meals, selling gifts and duty-free items are all part of the job.
The cabin crew members are trained to deal with security and emergencies and can administer first aid to passengers.
It's also your responsibility to ensure that all emergency equipment is in working order before the take-off and that there are enough supplies on board. You have to help passengers in the boarding of the plane and give a demonstration of safety procedures and equipment.
QUALITY CUSTOMER SERVICE
Learn how to provide quality customer service to passengers?
Expand your skills by joining our airport management training at WIIA at an affordable price that includes all kinds of simulated programs, case studies, and practical training.
WIIA has specially prepared a three months stewardess course to develop your professional skills. In our practical training program, we use updated technology, real-time communication, live passenger safety simulation, etc.
A career as a cabin crew member opens up new horizons, your career growth possibilities become limitless. During our cabin crew training program, you will be equipped with comprehensive knowledge, lots of skills, values, and experience required to set you apart from others.
Our Air hostess / Flight Steward courses have few eligibility criteria. All the rules should be followed by all the candidates who want to join our training course.
Following are cabin crew training details and eligibility criteria
Age Limit: 17 to 25 years of age

Height: Minimum 155 CM (More than 5 feet)

Eligibility Criteria: 10 + 2 examinations cleared in any stream from a recognized board or university.

Appearance: Clear skin, positive body language, and well-groomed, no visible scars or tattoos, and pleasing personality.

Communication: Basic fluency and clarity of speech in English and Hindi both.

Duration of course: 3 months

Mode of admission: Interview/Skill test
Career Opportunity
There are jobs available in private abroad based airlines due to the gradual globalization and open sky policies which call for increasing liberalization. With the increasing number of fleets of airlines, the demand for flight attendants is likely to increase. Private air flites which even have work in other countries like IndiGo, Singapore Airlines, Kingfisher, etc. make a lot of recruits.
In the contractual nature of an air hostess, their work in the sky is limited to the duration of 8-10 years in the government sector. They can later be in charge of assignments such as training of recruits, managerial jobs, etc. They can also expand their portfolio as they have gained much experience over the years. Hotel hospitality, media, and travel tourism are other places that open to them after serving as flight attendants.
Being part of the cabin crew is an opportunity that is meant for a special few. Not only one should possess a friendly and kind person but they ought to be quiet and composed in all sorts of scenarios. They should have to make a good judgment and presence of mind in every situation. Confidence and a positive attitude are the key and are one of the most prized qualities. Possessing knowledge of many languages is a plus. Cooperation and team working are skills one must have in spades as the nature of the job demands it. A professional attitude and hard work are a must for becoming the cabin crew.
We at WIIA believe that an industry ready student makes for a great professional. We can safely claim to have cracked the code of success of our previous students in the Aviation and MRO sectors to our industry-ready infrastructure and 'Practical Training' facility.
To find out more about the courses at WIIA, Please complete the form and we will be in touch with you soon.
Western India Institute of Aeronautics Pvt. Ltd.
C/o. Indus Campus, Rancharda, Via Shilaj, Ahmedabad – 382115, Gujarat, INDIA.
India : +91 7227 037781
International : +91 7227 037781
Email: info@wiia.org
Aircraft Maintenance Engineering, Aviation Engineering Colleges, Aircraft Engineering Maintenance, Aircraft Engineering College, Aircraft Maintenance College, Institute of Aircraft Maintenance Engineering, Aeronautical Engineering College Courses, Best College for Aerospace Engineering